Christmas Sweater (Tree)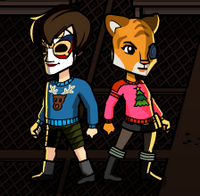 Both Christmas Sweaters modeled by WIT players TheMastah and NovicePrill
Availability:
Available in the shop.
Found in Unknown shards

Christmas shards
Recycles into
(See Crafting)
In Worlds in TimeEdit
Christmas sweaters for female players have Christmas trees on them, while sweaters for male players have reindeer on them . Both sweaters have been found in a wide range of colours.